Dance of Life – Yoga and Healing
Find us on the premises of St Marks Church, 250 George Street, Fitzroy. The Dance of Life is a long established yoga school and healing centre in the heart of Fitzroy, just north of Melbourne's CBD. We are committed to spiritual, emotional and physical health, happiness and peace of mind. Our philosophy is simply to open the mind and heart to the Infinite in each and everyone. Yoga and dance classes for all levels of experience from beginner to advanced are held 7 days/week. We also offer mums and bubs classes and pregnancy/ prenatal yoga instruction. Click here for our timetable and more information about the teachers at Dance of Life. Practitioners from diverse backgrounds such as shiatsu, massage, arts therapy, kinesiology, dance movement therapy, body mind centering come together under one roof to work holistically towards your health.
Yoga Playground Thursdays 4:30pm
Have you got questions about your practice? Want to build strength? Work on something in particular? Or just warm up more deeply before class? Nina is running a one hour workshop every Thursday 4:30pm before her 5:30pm class. Just come along and play – by donation (plastic note suggested). And no, it's not for kids 😉 Read below if you're interested in our Mums and Bubs class.
Mum's and Bubs yoga!
We still have some spots left so contact Fee if you are keen to trial a class: klauserfee@gmail.com or 0414 343 566
Tuesdays – 2-3pm (chai and snacks 3-4pm) $18 to trial a class at any time.
Regular Yoga Workshops
To be kept up to date about workshops, join the Yoga Workshop Group on Facebook.
Upcoming:
Sat, Oct 17th 1.15pm: Adho Mukha & Transitions
We'll look at adho mukha svanasana in depth, as well as explore transitions in and out of the posture.
Time: 1:15pm
Location: Dance of Life, Fitzroy
By donation – plastic note
All practitioners, all experiences welcome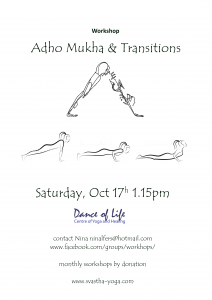 Contact Nina with questions and suggestions for a future topic.
Prenatal Yoga Course
The 6-Week Prenatal Yoga Courses at Dance of Life run regularly  and commence every 2 months. They are suited for all trimesters and designed to support you during pregnancy, physically and emotionally by strengthening and nurturing the body. It is a weekly space to focus on your pregnancy and meet other mums-to-be. You will learn useful breathing techniques that women have employed for generations in assisting natural birth by staying centered, calm and strong. The body is going through vast inner and outer changes whilst growing a little human being and it is therefore important to nurture yourself with lots of love and tenderness.
Tuesdays from 5.30 to 7.00 Pm
Level 1, Room 2
For bookings or questions please contact Fee
Soundshower with Avishai – Fri Nov 6th 8pm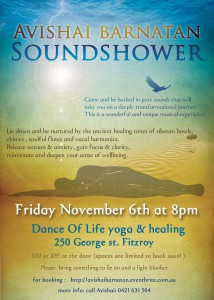 Union Circles:
The Womb Ceremony to Dissolve Blocks and Be More Love
For Women and Men, Couples or Singles.
Once a Month on Saturday nights – 7 – 10.30pm: $45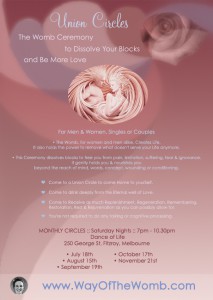 Double Dip at DOL
Wednesdays, Thursdays and Fridays are double dip days!
Come to…
…Wednesdays 5:15pm and the 7:30pm class is free
… Thursdays 6:30am  and the 5:30pm class is free
…Fridays  7:30am and the 10am class is free
Melbourne Cup Weekend Yogafest – Oct 30-Nov 2
Our last Yogafest during the Queen's Birthday weekend was again a full success! More than $20000 going to Amma
Yogafest is a bi-annual yoga retreat presented by the Dance of Life. All proceeds donated to Amma's charitable works around the world! Check out www.yogafestsomers.com for details and to register.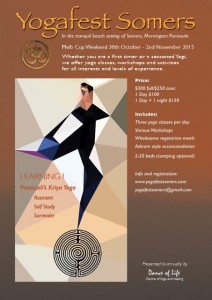 Kirtan
The next Kirtan will be held Oct 24th, 6:30 onwards. Other Kirtan dates for this year are:
Nov 28
Like us on Facebook to stay informed.
Donations go, as usual, to Amma's charities.